Bitcoin and Blockchain Beginner Course
On demand:
Groups of 10 or more: in-person classroom-style or online
There is a lot of excitement lately about the opportunities that cryptocurrencies and its underlying technology, the blockchain offers. From trading, investing, mining or using the technology to streamline existing systems and processes, the opportunities most definitely exist.
The Bitcoin and Blockchain Beginner course is for individuals who are new to cryptocurrencies and blockchain technology. The course covers the basics of money, bitcoin and the blockchain, how to use bitcoin: buy and sell bitcoin; send and receive bitcoin; and how to store bitcoin in a wallet, bitcoin and wallet security, compliance and regulation, use cases and opportunities this technology provides. It also includes alternatives to bitcoin and the Bitcoin blockchain.
The outcome of this course is to provide individuals with a general overview of bitcoin and blockchain technology. This course provides attendees with an insight into the future of this technology in terms of innovation and disruption of existing traditional systems and processes.
Similar to how the internet completely changed how people digitally share information, blockchain technology is revolutionising the storing and transacting of value.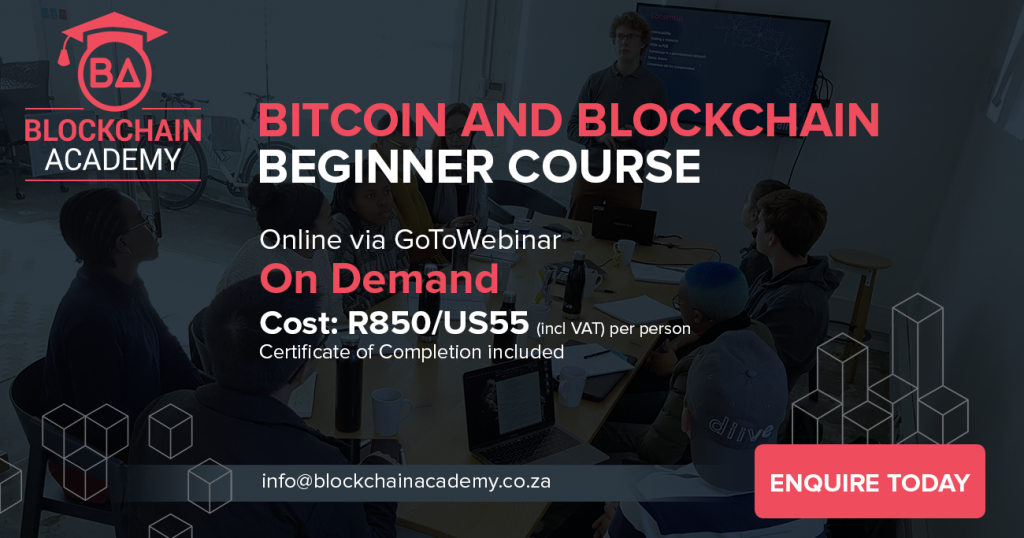 Requirements:
No previous understanding of cryptocurrencies and blockchain technology is required
An interest in bitcoin and blockchain technology
More Information
Price: From R850 per person for group training with a minimum of 10 attendees
Type: Online with instructor or in-person, classroom-style
Duration: Flexible to suit clients requirements with an average of 4 hours, including short breaks
Certification: Attendees receive a Certificate of Completion at the end of the course if attendance was complete
Module 1: Introduction
Money and currency
Digital currencies explained
History of Bitcoin
Module 2: The Blockchain
101 of a blockchain
How are transactions stored on a blockchain
What Bitcoin mining is
Permissioned and permissionless blockchains
Module 3: Using Bitcoin
Where and how to get bitcoins
How to store bitcoins in a wallet
How to send and receive bitcoins
How to trade bitcoins on on-line exchanges
Bitcoin pricing and volatility
Module 4: Bitcoin Security
Security issues and the pseudo-anonymity of Bitcoin
Security measures such as multi-signature transactions
Backing up and restoring wallets
Module 5: Bitcoin Scalability, Risks and Limitations
Transaction volumes and block sizes
Block propagation speed
Proof of Work efficiencies
Mining pools and centralisation
Mining rewards and incentivisation
Bitcoin scaling proposals
Module 6: Use Cases and Opportunities
Payment rails
Immutable ledger
Coloured coins and digital asset ownership
Time-stamped records
Proof of ownership
Micro-transactions
Module 7: Merchant Acceptance
How to integrate Bitcoin as a payment method
Benefits of using Bitcoin as a payment method
Payment processing companies
Verification of transactions on the blockchain
Successful case studies
Module 8: Bitcoin Compliance and Regulation
Regulation globally and in South Africa
Bitcoin compliance
Money laundering and fraud
Module 9: The Future of Blockchain
Smart contracts
Bitcoin for remittances in emerging economies
Innovation for financial institutions
Innovation for non-financial institutions
The value of bitcoin and the blockchain as a technology
Alternatives to bitcoin and the blockchain