Bitcoin and Blockchain Beginner Course
In partnership with Paxful, peer-to-peer marketplace to buy and sell bitcoin with 300+ payment methods
The Blockchain Academy, in partnership with Paxful, will be hosting the Bitcoin and Blockchain Beginner Course for FREE!

There is a lot of excitement lately about the opportunities that cryptocurrencies and its underlying technology, the blockchain offers. From trading, investing, mining or using the technology to streamline existing systems and processes, the opportunities most definitely exist.
The Bitcoin and Blockchain Beginner course is for individuals who are new to cryptocurrencies and blockchain technology. The course covers the basics of money, bitcoin and the blockchain, how to use bitcoin: buy and sell bitcoin; send and receive bitcoin; and how to store bitcoin in a wallet, bitcoin and wallet security, compliance and regulation, use cases and opportunities this technology provides. It also includes alternatives to bitcoin and the Bitcoin blockchain.
The outcome of this course is to provide individuals with a general overview of bitcoin and blockchain technology. This course provides attendees with an insight into the future of this technology in terms of innovation and disruption of existing traditional systems and processes.
FREE
All are welcome to attend!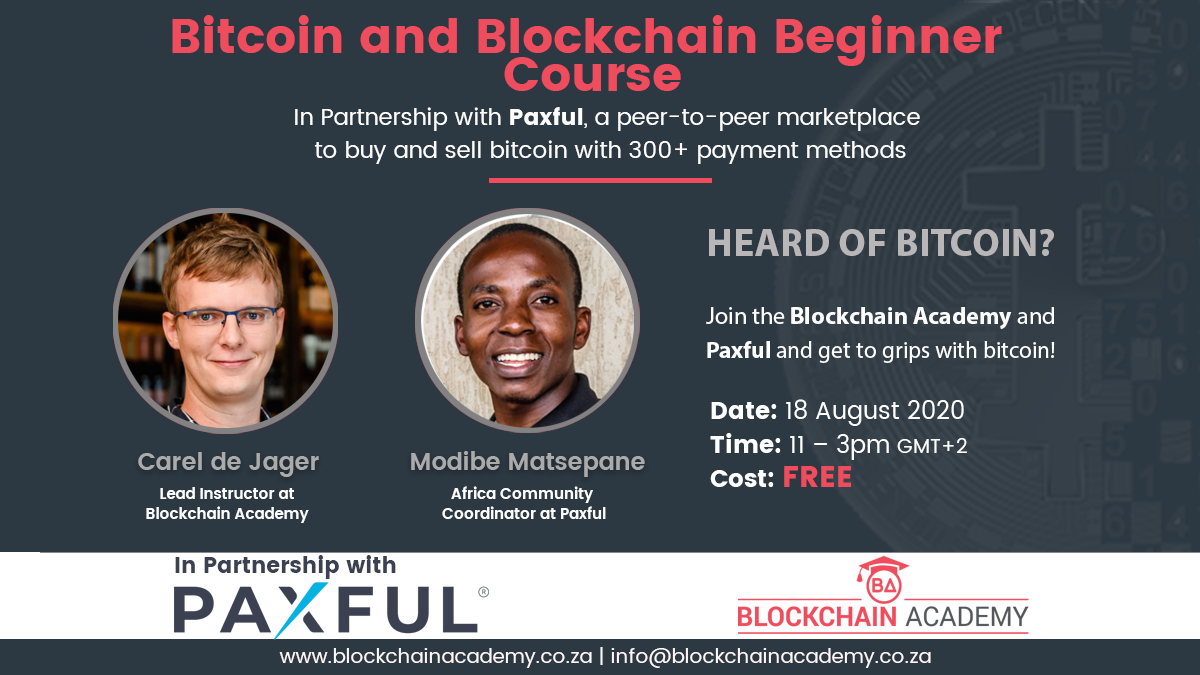 Requirements:
No previous understanding of cryptocurrencies and blockchain technology is required
An interest in bitcoin and blockchain technology
More Information
Price: FREE
This course is held online from 11:00am – 15:00pm SAST with short breaks in between
Each attendee will receive a Certificate of Completion at the end of the course
In Partnership with Paxful

Paxful is the leading peer-to-peer bitcoin marketplace where buyers and sellers are connected for business. Having over 300 payment methods available on Paxful makes it incredibly easy to find suitable offers.
We give the users complete control over their money. … Upon sign up, Paxful users are given a FREE wallet.
Paxful is a young financial technology startup, expanding rapidly with over 200 employees around the world with offices in New York City USA, Hong Kong, Tallinn Estonia and Manila Philippines.
Module 1: Introduction
Navigating a new financial paradigm
Digital currencies explained
History of Bitcoin
Understanding the Bitcoin blockchain
Module 2: Down the Rabbit Hole
How bitcoin mining works
Sending / receiving bitcoin: transaction demo and tracking
The pseudo-anonymity of bitcoin
Safely storing bitcoin: wallets and keys
Crypto inheritance planning
Bitcoin use cases and opportunities
Staying safe: How to protect yourself from scams
Bitcoin pricing and volatility
Module 3: The Future of Blockchain
Smart contracts and Decentralised Autonomous Organisations (DAO's)
Bitcoin for remittances in emerging economies
Innovation for financial and non-financial institutions
Module 4: Introducing Paxful
Getting to know Paxful
Creating an account on Paxful
How to buy bitcoin
How to sell bitcoin
Using Paxful in your daily lives
Build your own crypto business with the Paxful Peer Program