Bitcoin and Blockchain Bootcamp
Join us for our first Bitcoin and Blockchain bootcamp in Durban in partnership with SA Crypto.
The bootcamp is for individuals who are new to cryptocurrencies and blockchain technology and would like to understand the basics of bitcoin and its underlying technology the blockchain. Cryptocurrencies such as bitcoin have become increasingly popular in South Africa with the word "bitcoin" in South Africa, as the most searched for term globally, on Google, in early 2018.
An instructor from SA Crypto and from the Blockchain Academy will guide you through many interesting topics. The bootcamp will be held at The Sett, Umhlanga, Durban.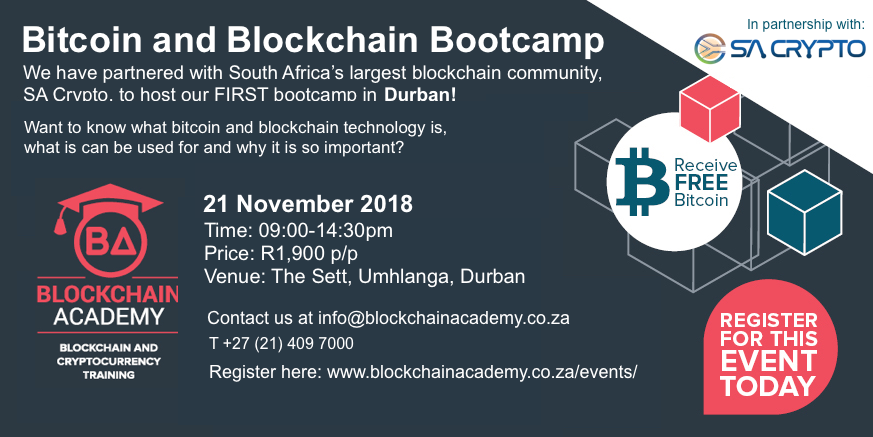 About this event:
The growing interest surrounding the opportunities that cryptocurrencies, such as bitcoin, offers, is evident through the enquiries received by the Blockchain Academy.
From investing, trading, mining bitcoin, the opportunities definitely exist. This event is for individuals looking for a crash course on blockchain technology and bitcoin: how to get started using bitcoin, buying, selling on local and international cryptocurrency exchanges, securely storing bitcoin in a wallet, sending and receiving bitcoin and learning about the risks and regulation that governments are imposing on cryptocurrency exchanges. Exploring how blockchain technology could potentially disrupt many industries and how some of the world's largest organisations are already using this technology from payments, trade finance, settlements and clearing, identity, energy, health, record-keeping, supply-chain management, provenance, voting, land registries, ownership and many more.
The bootcamp will explore questions such as:
How does bitcoin work?
What makes bitcoin different?
How secure are your bitcoins?
How anonymous are bitcoin users?
What determines the price of bitcoin?
Can cryptocurrencies be regulated?
What type of regulation might be considered by regulators?
What should you know about the tax implications of your cryptocurrency gains/income?
What is blockchain and why is there so much hype around this technology?
What can blockchain technology be used for?
Who is using blockchain technology and why?
What might the future hold?
Price: R1,900 per person
Discounts apply for group bookings of 3 or more
09:00am – 14:30pm
Refreshments included
Receive FREE bitcoin
No laptop required
No prior knowledge or experience of bitcoin or blockchain technology is required
Bitcoin and Blockchain Introduction
The history of bitcoin: why was it created and what problem does it solve?
How does bitcoin and blockchain technology work?
What is bitcoin mining and how are transactions stored on a blockchain?
What are the differences between permissioned and permissionless blockchains?
What are some of the different types of blockchains?
What are some examples of organisations using this technology?
Why is this technology and cryptocurrency so innovative and revolutionary?
How Do I Use Bitcoin?

What are the different ways I can get bitcoin?
How do I buy and sell bitcoin?
How does an order book work?
What are the fees associated with buying and selling bitcoin?
How do I send and receive bitcoin?
What are the different types of cryptocurrency wallets and what are the advantages and disadvantages of each?
How do I ensure my bitcoin is stored safely?
What is two factor authentication and why is it important?
Which merchants in South Africa and globally accept bitcoin?
Demonstration
The instructor will send bitcoin to someone in the class to demonstrate the process.
Each attendee will be sent R50 worth of FREE bitcoin after the bootcamp.
Cryptocurrency Exchanges
What are the best cryptocurrency exchanges in South Africa and why?
What are some of the best cryptocurrency exchanges globally and why?
How do cryptocurrency exchanges work?
What do I need to know when using a cryptocurrency exchange?
Bitcoin Regulation and Tax
Is bitcoin considered as legal tender and can I use it for payments?
What should I know about tax (income and capital gain/loss) when trading and investing in cryptocurrencies?
What is the South African Reserve Banks stance on cryptocurrencies?
What are other regulators saying about cryptocurrency regulation?
Bitcoin Scalability, Risks and Limitations
What are some of the issues bitcoin and other cryptocurrencies and blockchain technologies have, in terms of scaling the technology?
What are the average transactions volumes for Bitcoin and Ethereum compared to private blockchain technologies?
Why are these differences important?
What are some of the proposals to solve these scaling problems?
Are cryptocurrency payments efficient in their current form?
Is centralisation a problem with cryptocurrencies and blockchain technology?
Blockchain Technology and Cryptocurrency Use Cases and Opportunities
What are some of the most interesting use-cases for blockchain technology and cryptocurrencies?
Which organisations are researching and developing services and products with this technology?
What is the future of this technology and is it heading towards a decentralised future?
Question and Answer
You will have an opportunity to ask the instructor any questions you have during and after the bootcamp.