Blockchain for Insurance Course
In collaboration with the African Leadership University and ALU School of Insurance
26-27 November 2019:
AlphaCode Club, Sandton, Johannesburg
Program Description
How will blockchain impact the insurance industry?
This 2-day masterclass is for non-developers, senior managers and executives from the insurance industry who want to gain a solid understanding of blockchain as well as the implications and opportunities for the insurance sector.
Program Summary
Day 1: The lay of the land
This introduction will provide a broad, non-technical overview of distributed ledger technologies, how they work, prospects for scale and why they have disruptive potential.
Day 2: Blockchain in the wild
This day focuses on use cases for blockchain, zooming into insurance applications. Employing a design thinking approach, participants will identifying opportunities to use the blockchain in their organisations.
Price:
R11,500 Discounted to R8,500 p/p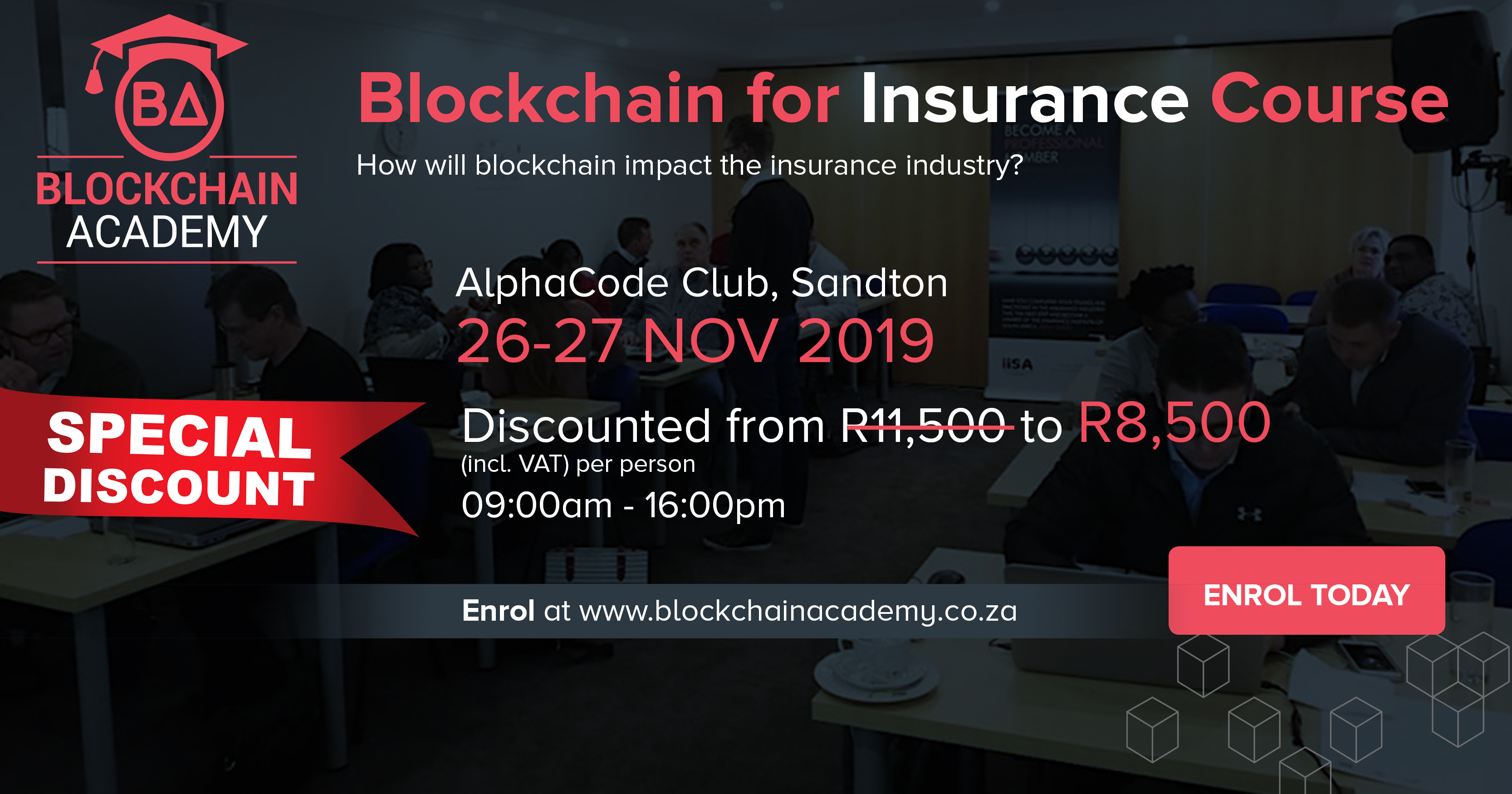 Requirements:
No previous understanding of cryptocurrencies and blockchain technology is required
An interest in how blockchain technology can impact the insurance industry
Day 1
Get a high-level understanding of the course content flow
Understand the definition of trust in conventional financial systems
Compare the strengths and weaknesses of blockchains in relation to normal databases
Recognise the high-level architecture of a blockchain
Define "consensus" and "immutability" in a blockchain context
Be aware of basic blockchain-related cryptography
Define a "digital asset" and know the dissimilarities to conventional assets
Understand how a digital asset can be recorded and audited on the Bitcoin blockchain
Understand the risks and costs of asset tokenisation
Understand why scaling blockchains are problematic
Name benefits and drawbacks/tradeoffs of using the blockchain at scale
Define "smart contract" and name their advantages, limitations, and risks
Day 2
Be able to recognise and to give 1 example of a "know your customer" blockchain
application
Understand how a blockchain enables immutable timestamps
Identify digital assets that can be recorded on the blockchain
Explain the relevance of digital assets to the insurance industry
Explain how the blockchain changes the nature of ownership
Understand how a blockchain can automate insurance policies
Know how to implement smart contracts
Know how to process real-world data in an automated insurance product
Explain how blockchain might influence the insurance industry
Identify areas for future R&D
Be in a position to reap the benefits of blockchain at the right time
More Information
Price:

R11,500

Discounted to R8,500 p/p
This is a 2-day course from 09:00am – 16:00pm each day
Refreshments and a light lunch will be provided
The training will be held at the AlphaCode Club, Sandton, Johannesburg
Each attendee will receive a Certificate of Completion