On demand (Groups of 10 or more):
Online via GoToWebinar
The Blockchain Academy, in partnership with The Field Institute host the Blockchain Executive Training over 3 days from 09:00-11:30am each day.
Blockchain technology is rapidly gaining traction, but the majority of senior executives (63%) still don't know what it is, according to a Global Blockchain Business Council survey reported in Cointelegraph.
The global blockchain market is expected to increase by 80% between 2018 and 2023, from $1.2 billion to $23.3 billion, according to ReportLinker.
The most significant advantage of blockchains distributed ledger is reduced operational cost and streamlined efficiency which provides transparency, reliability and authenticity. Blockchain technology is undoubtedly here to stay and will change the face of business as we know it in the next few years. With our training and consulting, the Blockchain Academy prepares both the private and public sector for this disruption.
Outcomes
The outcome of this training is to provide attendees with a general overview of cryptocurrencies and blockchain technology.
The course provides a good foundational knowledge of how cryptocurrencies and blockchain technology work, what they can be used for and why they are viewed as being so innovative and disruptive.
The training provides an overview of some important use-cases for blockchain technology in the public and private sectors.
The session will help attendees understand the importance of this technology in terms of building and using permissionless technology.
It will provide attendees with an insight into the future of this technology in terms of innovation and disruption of existing traditional systems and processes as well as how attendees can leverage the benefits of this technology in their own field of work.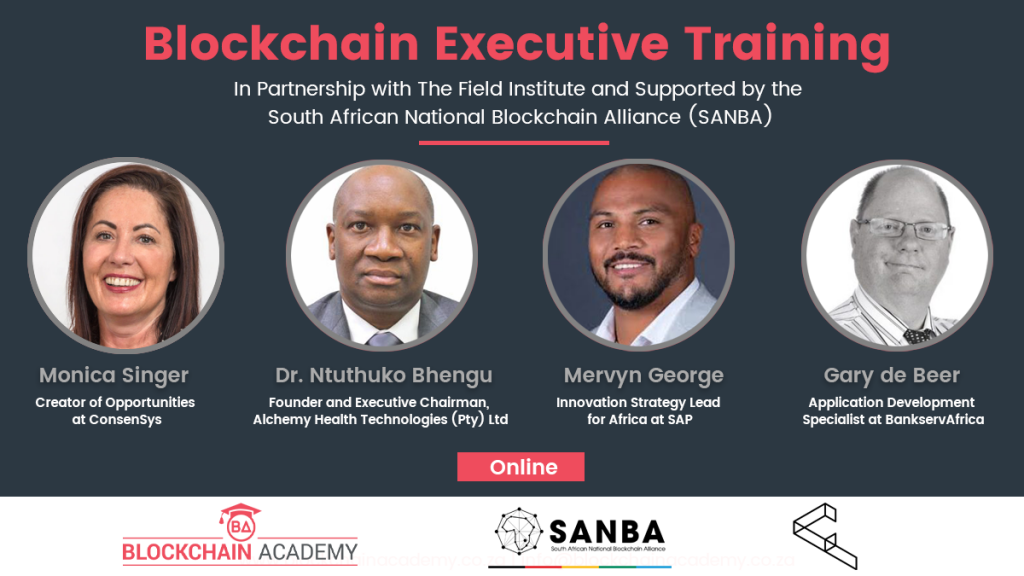 Attendees will be exposed to case studies and the work of key experts in the field, from blockchain in health, food tracking, digital identity and insurance.
This course has a theoretical basis, but also includes discussions, tutorials and practicals to ensure each attendee attains an adequate knowledge base to make high-level decisions with regards to blockchain in their organisations.
Requirements:
No previous understanding of cryptocurrencies and blockchain technology is required
An interest in blockchain technology
You will be required to download and launch the GoToOpener app prior to the session
Read more about the app here
A good internet connection
Price:

R1,500 per person (including vat)
More Information
The cost is R1,500 (incl. vat) per person.
Email Nazley at nazley@blockchainacademy.co.za for more info.
Date and Time: As requested by client: 09:00am – 11:30am SAST each day
Online via GoToWebinar: link will be shared with you once you have registered
Supported by the South African National Blockchain Alliance (SANBA)
The South African Blockchain Alliance (SANBA) is a distributed, decentralised and autonomous network of blockchain ecosystem players, consisting of government, academia, business, start-ups and civil society. The aim is to connect the SA blockchain community to optimally leverage this linked ecosystem to move blockchain forward in SA. It will actively assist existing initiatives such the South African Financial Blockchain Consortium (SAFBC), the Intergovernmental Financial Working Group (IFWG), the Blockchain Entrepreneurship Club of South Africa (BECSA) and others. The ultimate objective is to create a supportive innovation environment so that South Africa emerges as the blockchain innovation hub of Africa.
Read more. 
DAY 1 and DAY 2
Module 1: Blockchain: What and Why

The evolution of money
History of Bitcoin
How financial systems and banking works
Live Bitcoin transaction demo and analysis
Basics of blockchain technology
Module 2: Blockchain Deep Dive
Security and risks
Mining
Blockchain and real-world data
Decentralised trust, consensus and immutability
Demo: Recording a digital asset on the blockchain
Smart contracts
Permissioned vs. permissionless networks
Practical
Conceptualize your own use-case for blockchain within your organisation.
Prepare a 5-minute pitch for Day 3.
DAY 3
Module 3: Use-Cases
Time-stamping
Document provenance
Payments, remittances and financial inclusion
Insurance
Transparency, audit and fraud reduction
Digital assets and conveyancing
Health
Self-Sovereign Identity
Voting and Governance
Use-Case Presentations
Each participant will have time to present their use-case from Day 2.
The training facilitator and instructor will give feedback on the technical feasibility of each use-case.
Module 4: The Future
The internet of money
Decentralised Autonomous Organisations (DAOs)