A Professional Guide to Initial Coin Offering (ICO) and Token Investing Course
Join us for our first Professional Guide to Initial Coin Offering (ICO) and Token Investing course in Cape Town in partnership with The Academy of Trade.
2018 may be remembered as the year where Initial Coin Offerings (ICOs) began to seriously disrupt global investment markets and introducing start-ups and small companies to a radically new way of raising money by launching crowdfunding campaigns using cryptocurrency tokens.
However, many of these ICOS are proving to be scams or doomed to fail.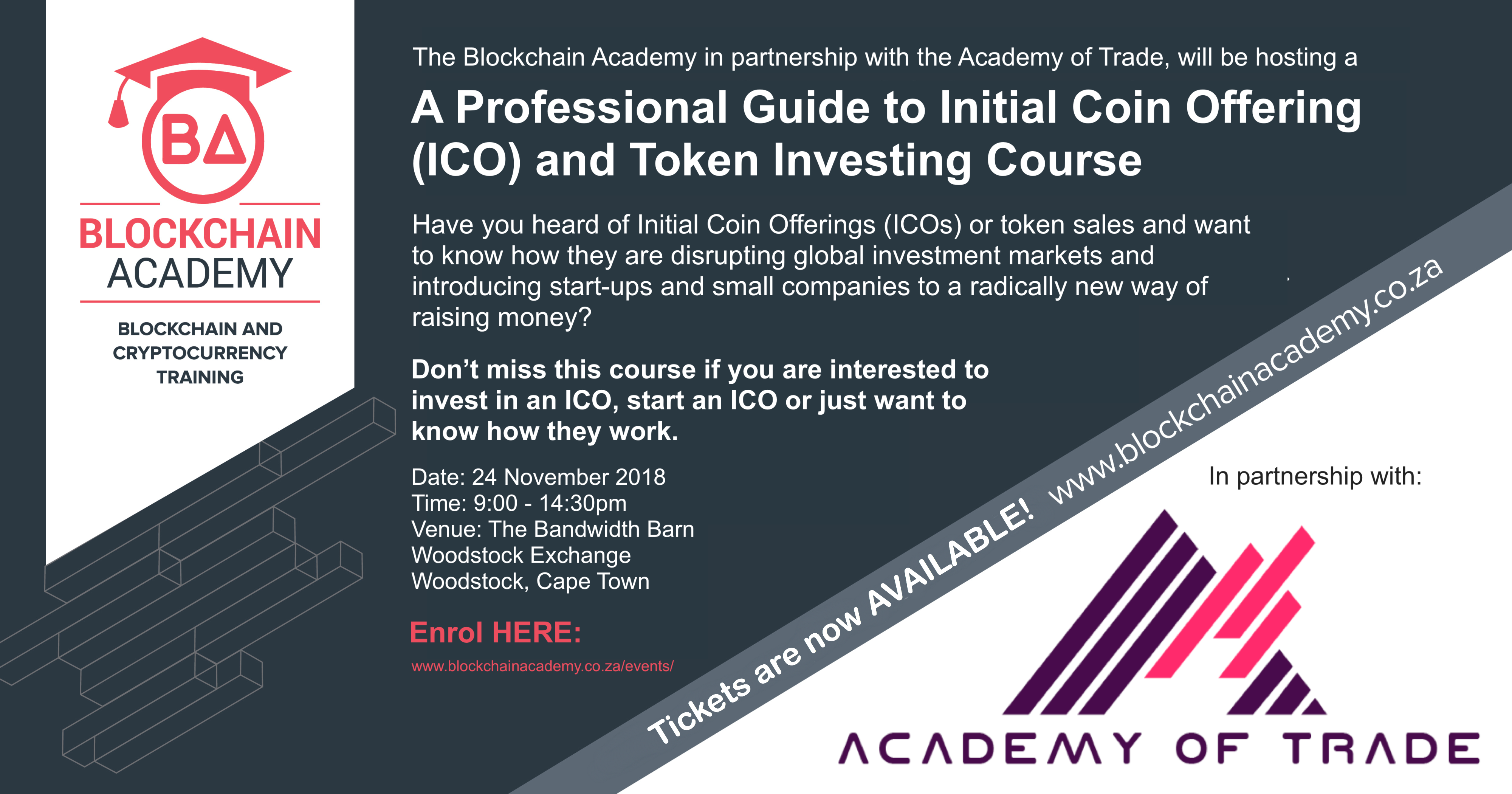 ICOs, also known as token sales, are events where digital tokens are issued to investors over a blockchain-based platform for use in a smart contract. Issuers accept cryptocurrencies such as bitcoin or Ethereum from investors in exchange for a proprietary digital medium of exchange on the platform, which is referred to as a token.
So why are so many individuals and companies interested in ICOs? Why are they important and what should you know?
Join us for this course to learn more!
Who should attend?
The course is for individuals who are interested in Initial Coin Offerings (ICOs) and token sales for investment purposes and looking at starting an ICO.
Where will the course be held?
The course will be held at The Bandwidth Barn, Woodstock, Cape Town, from 9:00-14:30pm.
What are the outcomes?
The course will enable you to have a greater understanding of how ICOs work and how to invest in them successfully.

What is included?
You will receive a light lunch and refreshments
Support from the instructor once you have completed the course
Price: R1,200 per person
Discounts apply for group bookings of 3 or more
09:00am – 14:30pm
Refreshments included
No laptop required
Basic knowledge of bitcoin or blockchain technology is required
Introduction
Think of an ICO as a mixture of an IPO (Initial Public Offering) and crowdfunding
What is an ICO?
ICO growth and popularity
Successful ICO's to date
Why is it the future of fundraising and investing?
The volatility and extreme nature of token prices
Viability and Use Case Analysis
Don't jump in straight away. Be objective about the ICO project. Is the project and the go to market strategy viable?
Technology – how to analyse if the technology solves an existing problem or inefficiency?
Business – how to estimate if the business model makes sense?
Token Economic Analysis – Tokenomics
If you are investing in a token you will need to know what the fundamentals are that make up the value of that token.
Sale Terms – how to analyse fair ICO terms
Supply and Valuation – how to analyse a token supply and price to calculate a fair valuation
Distribution – how to evaluate if a token distribution is fair
Community Analysis
Social presence has a huge impact on the validity and success of an ICO. The strength and size of the community will determine whether the ICO reaches its target token sales and help increase the value of the token when on exchanges.
Importance – how to evaluate the importance of a community on a project
Size – how to evaluate the size of a project's community
Quality – how to evaluate the quality of a project's community
Team Analysis
Understanding who the founding team is and whether they have the required skills and competencies to complete the project is imperative.
Legitimacy – how to perform due diligence on the founding team
Skills – how to evaluate if the project's team has the required skills to complete the project
Feasibility Analysis
It is important to analyse the underlying technology. Is it realistic or pie in the sky thinking
technology? How to analyse if the underlying technology could work in the real world.
Market – how to analyse if there is a market for the product, service or technology
Competition – how to identify a project's competition
Value Analysis
Value is perceived. You will need to know the black art of valuation.
Price to Network – how to estimate and analyse the project or network value
Team Analysis
Did someone say BitConnect?
How to identify obvious red flags of a potential scam
Scorecard
You will need a scorecard to rate all the above-mentioned criteria, and then evaluate whether the project is worth investing in.
How to use a rating scorecard to evaluate a project and ICO
Question and Answer
You will have an opportunity to ask the instructor any questions you have during and after the course.