AI + Blockchain + Impact Workshop
Johannesburg: 9 March 2020
The opportunities to use emerging technologies for impact is growing at a breakneck pace. Across the globe, mobile payments, satellite imagery, 3-D printing, Internet-of-Things (IoT), the blockchain and artificial intelligence are being used to address the Sustainable Development Goals (SDGs) by creating access to financial inclusion, education, renewable energy, healthcare, water and sanitation and more.
Blockchain Academy has partnered with Intelligent Impact and Bitcoin Events to bring you a practical and insightful training session on blockchain technology and artificial intelligence (AI), aimed at enterprises, non-profits, development organisations, government, corporates and investment firms. In this full-day training session, participants will be given an introductory knowledge of a range of emerging technologies.
The types of organisations that are using these technologies range from start-up social enterprises to corporates, from development institutions to governments and from global NGOs to local non-profits. Nonetheless, there is a significant skills gap on the side of social impact practitioners around how to apply the use of emerging technologies effectively, efficiently and appropriately.
In this 1-day training session in Johannesburg, before the Blockchain Africa Conference, we will give participants an introductory knowledge of a range of emerging technologies, examine case studies from across impact sectors on the application of technologies and use design thinking frameworks to work through how to apply the learnings to their own social impact organisations.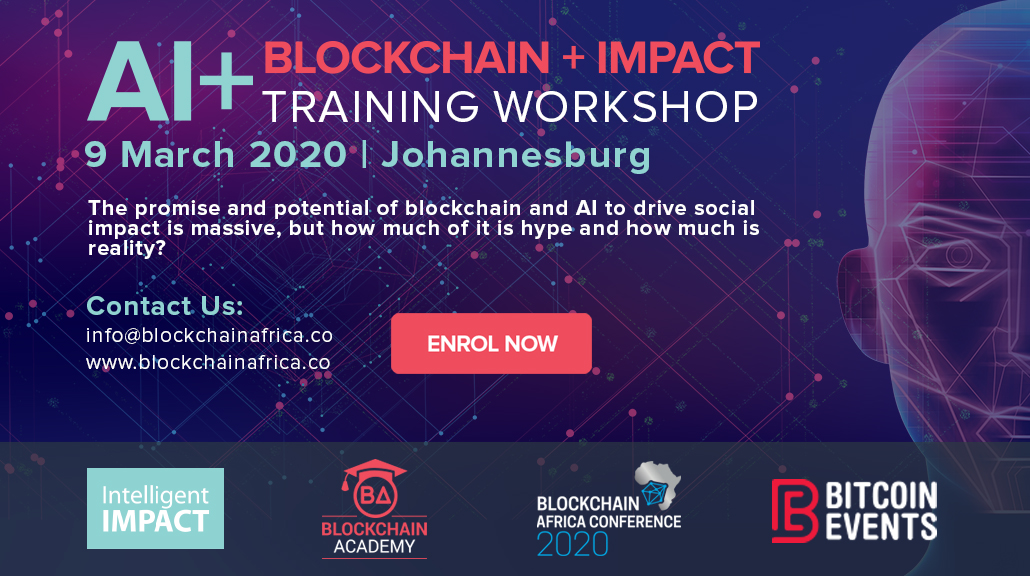 Who should attend?
The target audience for this training is social impact practitioners from enterprises, non-profits, development organisations, government, corporates and investment firms. Participants do not have to have a deep understanding of technology to attend.
What is included?
You will receive a light lunch and refreshments
Access to business and organisations in these industries
Requirements
No laptop required
No knowledge of AI, IoT and blockchain is required
9:00 – 9:30am: Training overview and who is around the table
9:30 – 10:30am: Overview of emerging technologies and definitions: This session will cover typology and definitions of emerging tech for impact including mobile payments, satellite imagery, 3-D printing, IoT, blockchain technology and artificial intelligence.
10:30 – 11:00am: Deep dive: IoT
11:00 – 11:15am: Break
11:15 – 11:45am: Deep dive: satellite imagery
11:45 – 12:30pm: Deep dive: Artificial Intelligence
12:30 – 1:30pm: Deep dive: blockchain
1:30 – 2:30pm: Working lunch
2:30 – 3:30pm: Case studies in technology for impact
3:30 – 4:30pm: Design thinking session to help organisations identify opportunities in their own organisations
4:30 – 5:30pm: Rapid prototyping
5:30 – 5:45pm: Course wrap-up
Course Conveners and Presenters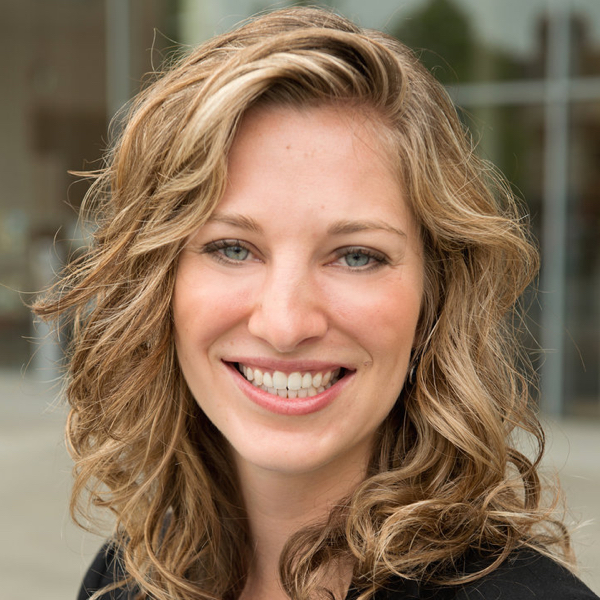 About Aunnie
Aunnie Patton Power is the founder of Intelligent Impact, a technology for social impact advisory firm, and a university lecturer on Innovative Finance, Impact Investing and Technology for Impact. At the University of Oxford's Saïd Business School, she holds the title Associate Fellow as well as Entrepreneur in Residence at the Skoll Centre for Social Entrepreneurship. At the University of Cape Town's (UCT) Graduate School of Business she holds the title Adjunct Faculty as well as Senior Advisor to the Bertha Centre for Social Innovation and Entrepreneurship. She is also a visiting fellow at the London School of Economics' Marshall Institute.
A reformed M&A investment banker, Aunnie began her impact investing career in 2010 with Unitus Capital in Bangalore and has since worked with start-ups, intermediaries, funds, family offices, foundations, corporates and governments across Africa, Asia, Europe and North America. Aunnie's work has been published throughout the world, including by the Oxford University Press, the Stanford Social Innovation Review (SSIR), the World Economic Forum, Impact Investing Policy Collaboration and as a Massive Open Online Course on Coursera.
Aunnie is the winner of CEEMAN Global Case Writing Competition for Zoona Mobile Money Case.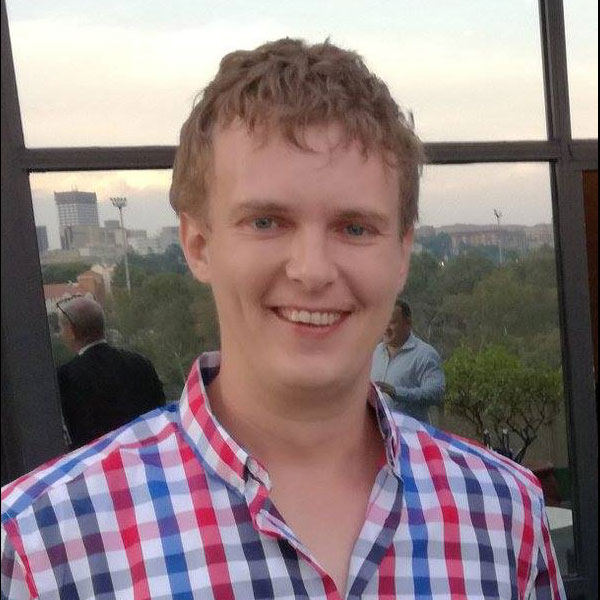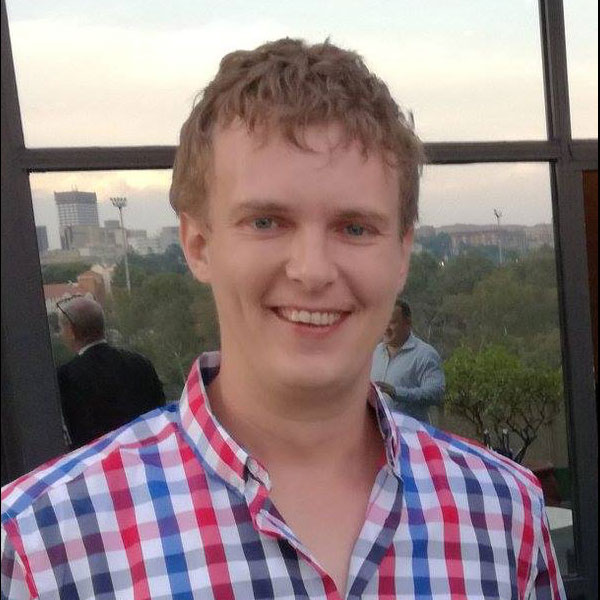 About Carel
Carel began his career as a Chemical Engineer in the energy industry. He now works as a consultant for the Blockchain Academy, facilitating a wide range of blockchain-related training courses and presentations. Through the academy, he also delivers customised, industry-specific training to audiences ranging from the inexperienced to executive level.
Carel is also a public speaker, where he often illustrates his ability to explain technical use cases for blockchain technology in a simple and practical way.
He's interest in blockchain technology grew from building an Ethereum mining rig in 2016. Being an engineer, he delved into the technicalities of his newly developed hobby and quickly realised that the mathematical problems his mining rig were solving would change the world. The study of this technology became his passion.
As a consultant at the Blockchain Academy, Carel has been invited onto television shows (SABC1), coached numerous executives on the technology and presented about specific aspects of blockchain use cases to clients such as the Johannesburg Chamber of Commerce and Industry, Werksmans Attorneys, Discovery and SAICA. He has a thorough understanding of blockchain technology, especially on a deep technical level and often uses practical examples to illustrate concepts.